On October 25, "The Mkhitarist Congregation in Historical Science", "The Contribution of Mkhitarists in the Philology", "The Arts and Culture in the Mkhitarist Activities" thematic sections of "The Mkhitarist Congregation of Venice -300" International Conference continued. During the two-day conference, both the senior and the younger generation of scientific institutions presented their reports with new approaches on the activities of the Mkhitarists and touched upon their rich scientific heritage.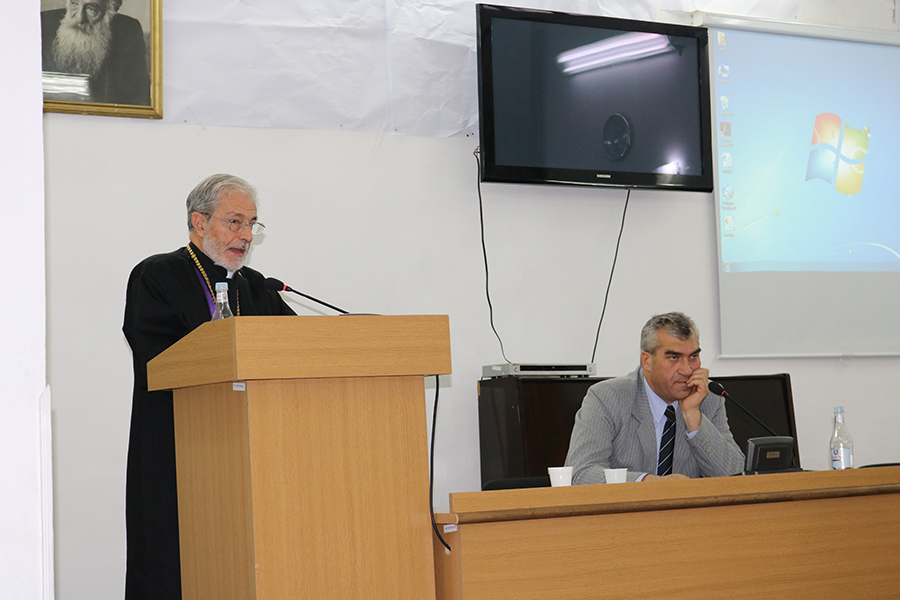 The Pontifical Delegate of the Venice Mkhitarist Congregation, Primate of the Armenian Catholic Diocese in Turkey, a Foreign Member of the National Academy of Sciences of the Republic of Armenia, Archbishop Levon Ter-Zekiyan delivered a speech. He thanked the organizers of the Conference for its proper organization. Zekiyan highly assessed as well the work done by the conference participants, particularly stressing that in their reports they were not satisfied with a limited number of sources and tried to carry out a comprehensive study of the Mkhitarist activities.
Continuing the words of Zekiyan, Director of the Institute of History of the National Academy of Sciences of Armenia Ashot Melkonyan added that the Armenian people is the owner of the Mkhitarist Congregation, its spiritual and moreover, its material heritage. "I was particularly pleased to see the participants of the conference show special interest and respect towards the Mkhitarist Congregation and its figures. The younger generation came out of the position of the master and successor to the Mkhitarist Congregation." Melkonyan also considered important that the Mkhitarists' centuries-old contribution to the preservation of Armenian identity was worthy of praise reminding about the suggestion of naming a street after Patriarch Mkhitaryan. "In fact, all Armenological centers operating in Armenia and Diaspora have a lot to learn from the Mkhitarist Congregation," Melkonyan said.
The Deputy Minister of Diaspora Serge Srapionyan also delivered a final speech on behalf of Minister Hranush Hakobyan on the occasion of the effective cooperation between the organizing structures of the International Conference and noted: "We recognize the idea of naming a street after the Mkhitarists in Yerevan and the need to periodically organize Mkhitarists readings and conferences in Armenia."
The reports of the "The Mkhitarist Congregation of Venice-300" International Conference will be published, thus bringing the public's reach to the Conference's achievements. The participants expressed hope that the events concerning the Mkhitarists' activities would be continuous and frequent.