On October 28-29, 2017, a group of Armenian researchers of science and culture, as well as lecturers conducted regular visits to the military units of the Artsakh Republic Defense Army and delivered lectures within the framework of the "Pages of History and Culture" program. The visit-lecture was organized with the support of Gegham Harutyunyan, the Head of Public Council under the RA Minister of Defense. The lectures were dedicated to the 26th anniversary of the Artsakh Republic.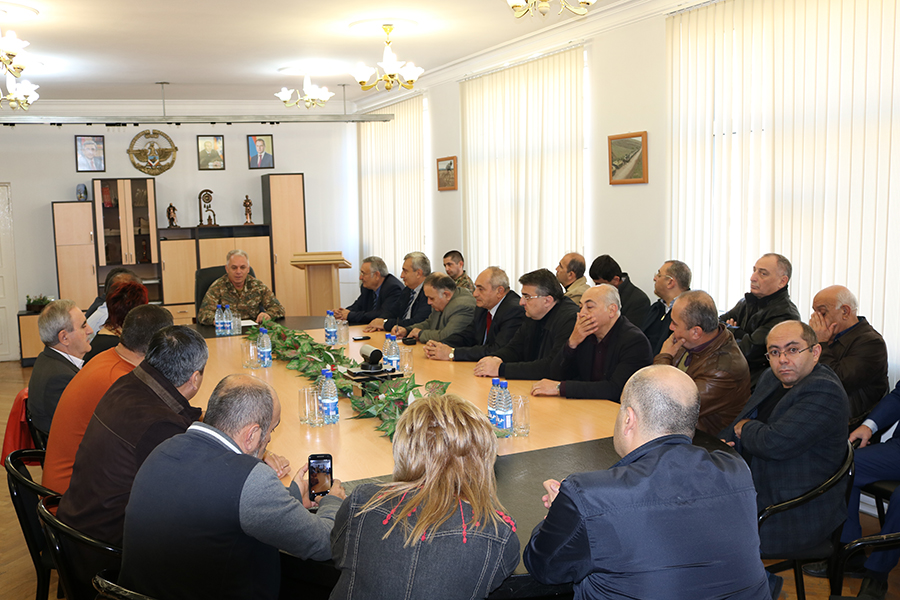 The group of the lecturers of the NAS Institute of History was presented by the Director, Academician of NAS RA, Doctor of Historical Sciences, Professor Ashot Melkonyan, Deputy Director, Doctor of Historical Sciences, Professor K. Khachatryan, employees H. Gevorgyan, V. Melikyan, A. Marukyan, G. Vardanyan, G. Hovhannisyan, A. Maghalyan, A. Saiyan, V. Sargsyan, R. Sahakyan
Lieutenant-General Levon Mnatsakanyan, Commander-in-Chief of the Defense Army, welcomed the delegation, considering it as demanded and effective, which once again should reinforce the army-society cooperation. The Minister presented the situation in the front line and the technical innovations that the military units were equipped with, consequently the Minister answered the questions of the lecturers.
After the meeting the group of lecturers left for different military units of the Defense Army.